MELASMA: WHAT TO LOOK FOR AND WHAT TO DO
MELASMA: WHAT TO LOOK FOR AND WHAT TO DO
Learn about the different types of melasma and how Dynamic Age Defense SPF prevents, treats, and manages melasma effectively and safely.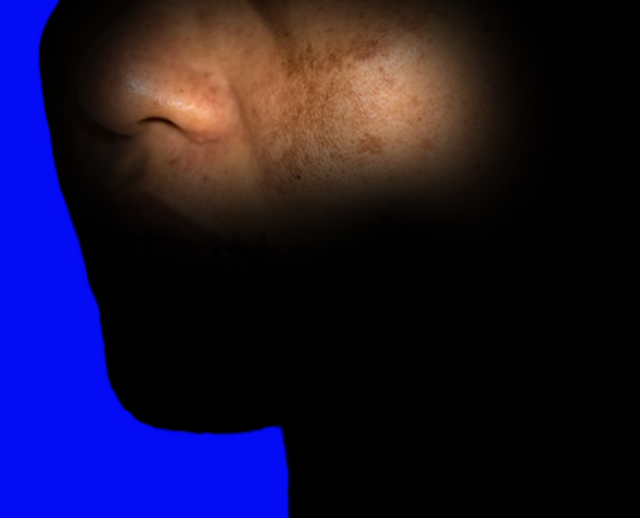 What you need to know
Melasma is a common and frustrating skin condition characterized by dark patches on the face, primarily influenced by genetics, hormones, and sun exposure.

Treating melasma can be challenging due to its deep-layered impact, limited safe treatment options during pregnancy, and varying efficacy of traditional treatments on different skin types.

Using a UVA and HEVL-protective treatment like Dynamic Age Defense SPF is crucial for preventing, treating, and managing melasma effectively, because it offers 100% mineral protection without hidden chemical UV filters and is safe for sensitive skin.
Melasma is an incredibly frustrating but common skin condition characterized by dark, discolored patches that most commonly appear on the cheeks, forehead, upper lip, and chin. Melasma should be diagnosed by a dermatologist, but here are the three distinct types of melasma and what they look like:3,6
Epidermal Melasma: This type of melasma affects the top layer of the skin (epidermis) and appears as dark brown patches. 
Dermal Melasma: Dermal melasma affects the deeper layer of the skin (dermis) and presents as blue-gray patches. 
Mixed Melasma: As the name suggests, mixed melasma involves a combination of both epidermal and dermal melasma, leading to patches with varying shades of brown and blue-gray.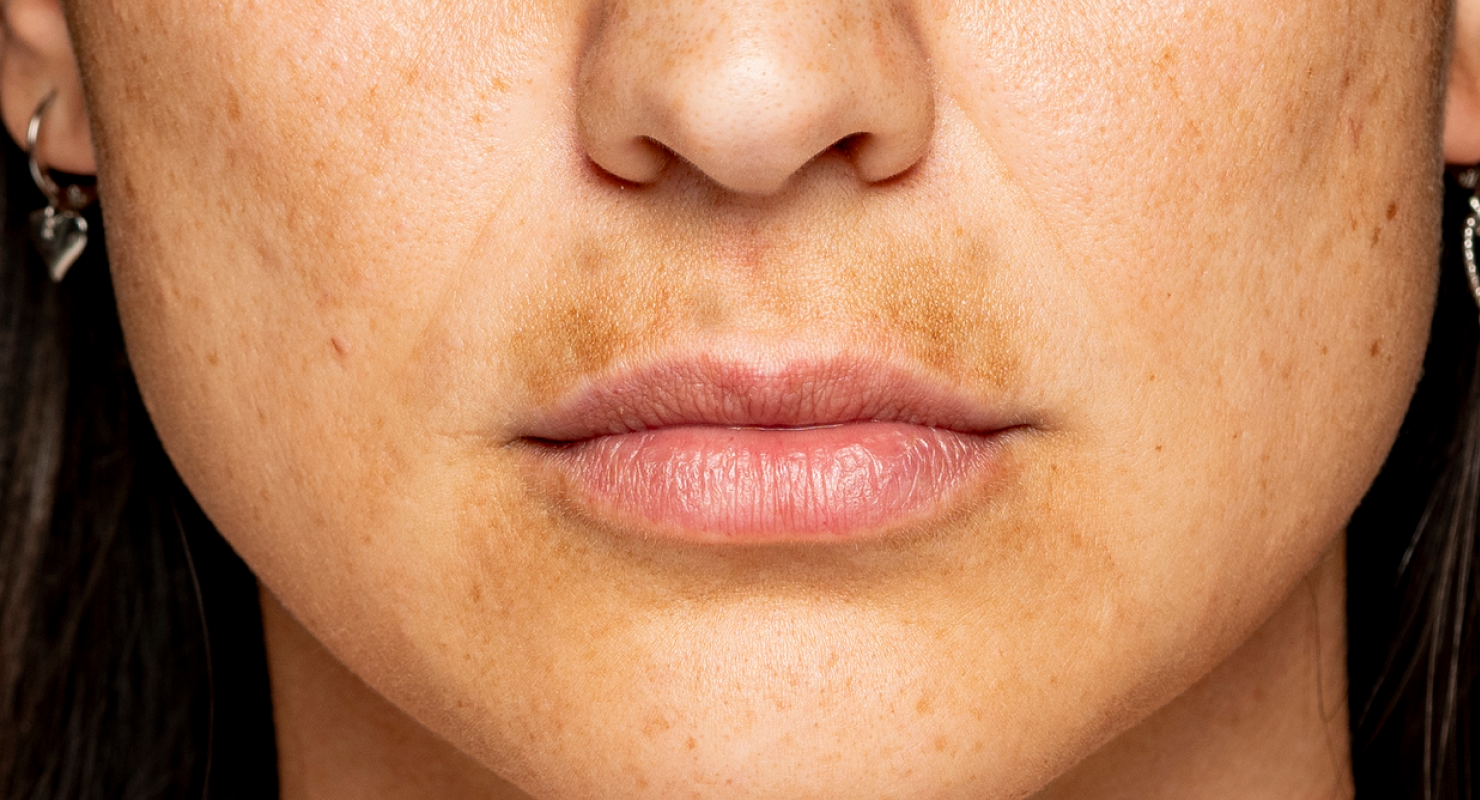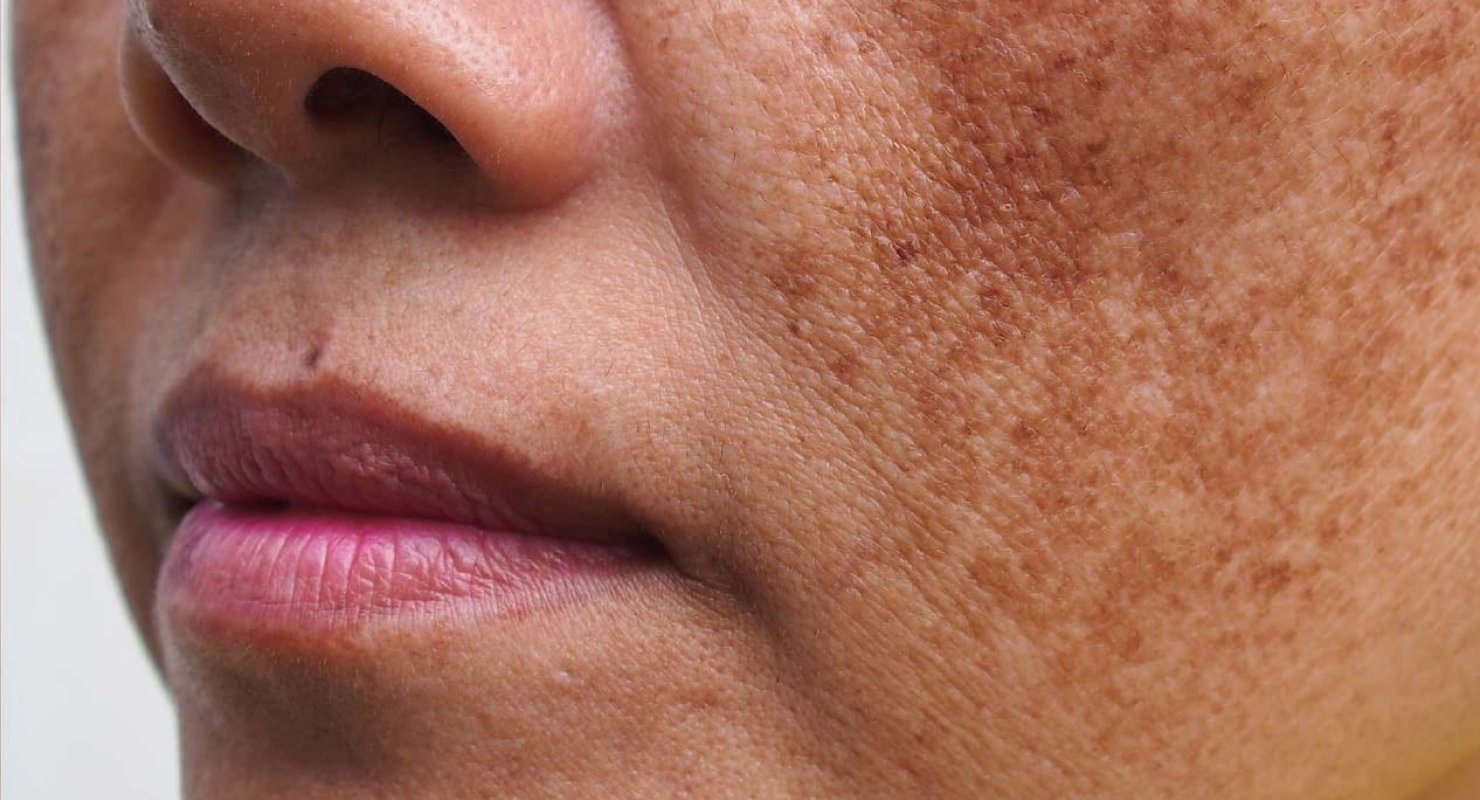 Melasma is a complex, stubborn condition influenced primarily by genetics, hormones, and sun exposure. It is more prevalent in individuals with darker skin tones; one study estimates that as many as 30 to 50% of South Americans and Asians may have melasma.6 Photoaging plays an integral part in the appearance of melasma. While UVB, UVA, and HEVL radiation all worsen this particularly stubborn type of hyperpigmentation, melasma is especially sensitive to UVA and HEVL.1,3 In fact, recent clinical studies have found that HEVL acts synergistically with UVA to amplify its effects and cause greater changes in pigmentation.1,3,5 Finally, melasma is associated with high estrogen levels and often accompanies pregnancy or the use of birth control. 
Why melasma is so challenging to treat 
There are a few main characteristics that make melasma notoriously difficult to manage.  
Most people who have melasma have either mixed or dermal melasma. These are the two types mentioned above that involve deeper layers of the skin. This means that topical treatments have a harder time penetrating to the layers of skin impacted by dermal melasma at potent enough concentrations to be impactful.  
Melasma is most closely linked to sun exposure and hormones, two triggers that are difficult to control skin's exposure to. Without addressing underlying hormone changes and properly protecting against UV radiation, skin experiences constant exposure to melasma triggers.6  
The topical prescription products that dermatologists typically prescribed for melasma like hydroquinone and tretinoin aren't optimal for all skin types. Hydroquinone, for example, can only be used intermittently, and can actually cause ochronosis in those with more melanated skin—the same demographic more susceptible to melasma.3  
Because melasma often appears during pregnancy, women may be limited in the number of safe treatment options available to them. Common treatments like tretinoin, hydroquinone, lasers, or even OTC solutions like BHAs and retinols should be avoided during pregnancy and breastfeeding. 
The importance of sun protection 
Arguably the most crucial aspect of managing melasma, UVA and HEVL-protective sunscreen has been shown in recent studies to prevent melasma in those at high-risk, fade existing melasma discoloration, and reduce recurrence.3,5  
To prevent melasma: 
One 12-month clinical trial on 200 patients in Morocco found that use of a broad-spectrum sunscreen during pregnancy reduced the incidence of melasma from 53% to just 2.7% of participants. Another similar study in Korea also found that, in contrast to the >50% incidence rate of melasma in pregnant women, use of a broad-spectrum sunscreen lowered the study's incidence to just 1%.6
To treat melasma: 
The same Moroccan study found that existing melasma faded or remained stable in 79% of participants with regular use of a broad-spectrum sunscreen.6 Results become even more compelling in studies involving UVA and HEVL-protective sunscreens. One study found that a PA++++ sunscreen significantly improved melasma pigmentation and quality of life.6 Another compared the efficacies of a specifically UVA + HEVL-protective sunscreen and one that was just broad-spectrum in lightening melasma when used alongside hydroquinone. Those who used a UVA and HEVL-protective sunscreen alongside hydroquinone saw greater improvement in their melasma, a 75% reduction in hyperpigmentation score.2 These studies highlight the importance of a UVA and HEVL-protective sunscreen in fading melasma. 
To prevent recurrence: 
Melasma is a chronic condition, so once it occurs, it's likely to reoccur even after initial treatment. Consistent use of a UVA and HEVL-protective sunscreen even after a melasma flare-up has been managed is also extremely important. In a recent study, a UVA and HEVL-protective sunscreen prevented increases in melasma pigmentation better than those using one that only protected against UVB.5,6  
Why is Dynamic Age Defense SPF the best option for those with melasma? 
Melasma is truly an advanced and pronounced form of photoaging. UVA and HEVL are especially damaging for those with melasma because both types of radiation penetrate the dermis—where melasma most commonly manifests—and generate Reactive Oxygen Species (ROS), particles that worsen inflammation and accelerate photoaging. Dynamic Age Defense SPF solves this through three main mechanisms. 
Dynamic Age Defense SPF uses Pavise's patent-protected DiamondCore® zinc oxide, a superior mineral UV filter that offers 5X better UVA and HEVL defense than others. DiamondCore® zinc oxide protects against a broader spectrum of UVA and HEVL light than most other sunscreens, and the quality of protection across this spectrum is unparalleled. Dynamic Age Defense SPF has a PA++++ UVA protection rating, the highest rating possible. Referencing the previous section, sunscreens with this PA-rating are better able to fade melasma even without the addition of other melasma-treating skincare actives.  
While the iron oxides often added to tinted sunscreens can improve their HEVL defense, these options lack adequate UVA protection. Users also tend to apply less tinted sunscreen to avoid looking "cakey," which can reduce total protection. The best option for those with melasma may be to layer a tinted sunscreen with added iron oxides over Dynamic Age Defense SPF, so that its iron oxides can complement Dynamic Age Defense SPF's comprehensive UVA and HEVL protection.  
Dynamic Age Defense SPF contains additional potent antioxidants and tranexamic acid. UVA and HEVL's generation of ROS in skin plays an important role in melasma. Oxidative stress from ROS and consequent inflammation activates skin cell reactions that lead to persistent hyperpigmentation. Dynamic Age Defense SPF contains a Photoaging Defense Cocktail (PDC) of silymarin, astaxanthin, licorice root extract, niacinamide, tranexamic acid, and Pycnogenol®. These actives are rich in antioxidants that neutralize ROS, and they work synergistically with DiamondCore® zinc oxide to manage skin's oxidative stress and resulting hyperpigmentation more effectively than sunscreen alone.6,7  
One study comparing niacinamide—one of the PDC's actives—and hydroquinone at the same concentration, found that they were equally effective in fading melasma.6 A combination licorice root extract (another PDC active) and niacinamide treatment was also found to be effective against melasma. Tranexamic acid has also been shown in numerous clinical trials to be as effective at hydroquinone at fading melasma.6,7 All these ingredients, in addition to the most UVA and HEVL-protective zinc oxide ever invented, are included in Dynamic Age Defense SPF.  
Dynamic Age Defense SPF is non-irritating and safe for sensitive skin. We've talked about how inflammation plays an important part in the triggering of melasma. Dermal inflammation initiates skin cell reactions that result in increased melanogenesis, or production of melanin. Most sunscreens, however, can worsen inflammation. This is because chemical sunscreens permeate skin and pass through the dermis. Their increased interaction with skin cells increases the likelihood of irritation, sensitivity, and allergic dermatitis, exacerbating melasma in the process. Most mineral sunscreens also contain hidden chemical UV filters like butyloctyl salicylate and ethyl ferulate, which also increase the risk of irritation and inflammation; ethyl ferulate in particular is a known severe skin and eye irritant.  
Dynamic Age Defense SPF is a true, 100% mineral zinc oxide sunscreen, and does not contain any hidden chemical UV filters. It's a one-step sunscreen and moisturizer that reinforces the skin's moisture barrier as it protects against UVA and HEVL damage. Added antioxidants like silymarin, niacinamide, and Pycnogenol® have been shown to sooth irritation and calm inflammation. These characteristics make Dynamic Age Defense SPF optimal for melasma management, and the safest option for the pregnant women most susceptible to melasma but unable to use other treatments. 
Consistent use of a sunscreen with high UVA and HEVL protection is the best way to prevent and manage melasma. Dynamic Age Defense SPF provides 100% mineral sun protection with a focus on high UVA and HEVL protection, making it the smartest choice for those dealing with melasma. Gentle and free from hidden chemical UV filters, it helps minimize the risk of flare-ups and sensitivities for the most vulnerable skin types.  
References 
Alcantara, Giovana Piteri, et al. "Evaluation of Ex Vivo Melanogenic Response to UVB, UVA, and Visible Light in Facial Melasma and Unaffected Adjacent Skin." Anais Brasileiros de Dermatologia, vol. 95, no. 6, Nov. 2020, pp. 684–90, https://doi.org/10.1016/j.abd.2020.02.015. Accessed 12 Oct. 2021. 
Castanedo-Cazares, Juan Pablo, et al. "Near-Visible Light and UV Photoprotection in the Treatment of Melasma: A Double-Blind Randomized Trial." Photodermatology, Photoimmunology & Photomedicine, vol. 30, no. 1, Dec. 2013, pp. 35–42, https://doi.org/10.1111/phpp.12086. Accessed 8 May 2020. 
Hamzavi, IltefatH, et al. "The Role of Sunscreen in Melasma and Postinflammatory Hyperpigmentation." Indian Journal of Dermatology, vol. 65, no. 1, 2020, p. 5, https://doi.org/10.4103/ijd.ijd_295_18. 
Kohli, I., et al. "Synergistic Effects of Long-Wavelength Ultraviolet A1 and Visible Light on Pigmentation and Erythema." British Journal of Dermatology, vol. 178, no. 5, Mar. 2018, pp. 1173–80, https://doi.org/10.1111/bjd.15940. Accessed 10 Nov. 2020. 
Mahmoud, Bassel H., et al. "Impact of Long-Wavelength UVA and Visible Light on Melanocompetent Skin." The Journal of Investigative Dermatology, vol. 130, no. 8, Aug. 2010, pp. 2092–97, https://doi.org/10.1038/jid.2010.95. Accessed 25 July 2022. 
Morgado‐Carrasco, Daniel, et al. "Melasma: The Need for Tailored Photoprotection to Improve Clinical Outcomes." Photodermatology, Photoimmunology & Photomedicine, Mar. 2022, https://doi.org/10.1111/phpp.12783. Accessed 4 Aug. 2022. 
Sarkar, Rashmi, and Pallavi Ailawadi. "Treatment of Melasma: The Journey Ahead." Indian Journal of Dermatology, vol. 62, no. 6, 2017, p. 447, https://doi.org/10.4103/ijd.ijd_487_17. Accessed 1 Dec. 2021. 
By Claudia Teng - Updated August 01, 2023